POLYASPARTIC FLOOR COATING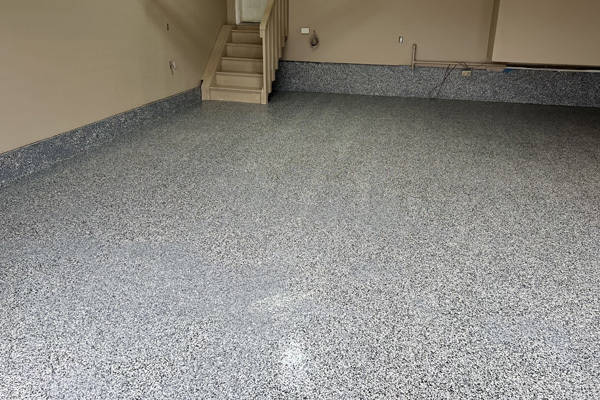 Polyaspartic Floor Coating is a great way to finish your concrete!
Serving Edmonton and surrounding communities with professional concrete services. 
Polyaspartic floor coatings are durable, attractive and easy to clean. Polyaspartic is a perfect choice to make your garage space more livable. Make your floor easier to clean and improve the look with a long lasting granite like quality. Increasing the home's resale value is a big bonus.
Benefits of Polyaspartic Floor Coating:
Polyaspartic finishes cure faster, are UV resistant, will not yellow and resist marking from hot car tires.
Polyaspartic is the top coat of a multi-part finish. Typically three layers including a colored epoxy base coat, decorative flake and topped with a clear coat of polyaspartic.
Polyaspartic is better than epoxy or other floor options with its superb durability and resistance to scratches, stains, and chemicals. Maintenance requires only a damp mop for cleaning, and perfect for busy commercial spaces or households.
Polyaspartic costs a little more, but it is more durable, looks amazing and lasts much longer.
The Process:
Start with preparing the floor by grinding the surface so the finish will penatrate and bond better. Acid etching is not as effective and grinding. Next, fill imperfections such as cracks and pits. 
Add a moisture barrier if moisture is present. Apply a thick colored epoxy base coat. 
Add decorative flake for that "granite" look. 
Finish with polyaspartic clear coat for that glossy look. 
- there are options available of polyaspartic and epoxy coatings, as well as urethane coating.